The story behind Clever Choice
Read more about who we are Clever Choice and what we each do.
The essence of Clever Choice
Clever Choice is a realization of the boyhood dream of creating the "perfect" company, where frameworks and limitations are only set by the customers and ourselves.
In other words – we want to run and continue to develop a company that is based on good, healthy values and integrity. We try to work against bureaucracy and "that's how we usually do it".
A good Swedish business associate stated this philosophical paraphrase of a famous quote:
"Aim for the stars and at least you will land in the treetops"
Dare to reach out into the unknown and reach further – that is our humble goal with Clever Choice.
Brief about Clever Choice
Satisfied and happy customers
We are a strong and close-knit team that works every day to ensure that our customers get the most value possible from working with us.
We are a strong and close-knit team that works every day to ensure that our customers get the most value possible from working with us.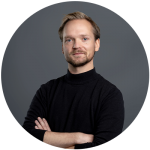 Alexander works in marketing, where his primary tasks are to ensure that Clever Choice has a nice graphic expression on both social media and for various trade fair stands.
Alexander loves being with his family and enjoys the pleasant moments with a good old-fashioned board game. But when it's "travel time", it's either a fresh bike ride in the open air or gaming on the program.
Alexander.jensen@cleverchoice.dk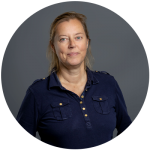 Bettina is an independent ITSM process consultant and project manager and has worked in the ITSM world for several years with various leading ITSM solutions, including Cherwell.
Bettina is passionate about working with people and putting structures into processes, which she, among other things, is allowed through education, workshops and configuration for our customers.
When she has time off, she spends much of her time doing crossfit and walking her dog.
Bettina.bostrand@cleverchoice.dk

Brian is a technical wizard who, with over 20 years in the industry, has control over both operations, service and support, implementation and architecture. He is trained as an engineer and…
passionate about spotting unique solutions, optimizing and powering business processes and thereby increasing digitalisation.
Privately, Brian lives in Northern Jutland and at home on the farm, time is spent with the family and driving around in his tractor while he thinks about our many good customers.
Brian.schmidt@cleverchoice.dk

Casper develops user-friendly solutions that make complex systems easy to use. He implements ITSM systems with a sure hand and likes to challenge… 
customers on how to get the most out of their solution. Casper knows people and is very interested in seeing the person behind the screen and listening to their needs.
He is certified in Cherwell, DynamicWeb and Umbraco and maneuvers complicated computer games in his spare time.
Casper.andersen@cleverchoice.dk

Nicki ensures that our ITSM solutions are implemented in the best possible way for our customers. He has a background as a developer and has a deep understanding of how the systems…
 are connected and can be utilized as best as possible.
It is important to Nicki that the customer not only gets a good solution here and now, but also a good starting point to be able to further develop the platform for many years to come.
Nicki.zabell@cleverchoice.dk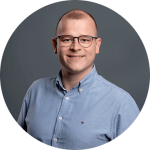 Peter handles sales, customer tasks and advice. He is passionate about creating good customer contact by always focusing on orderliness and the customer's needs.
Peter loves to put on the cycling clothes and get a double-digit mileage in his legs. 
Peter.lange@cleverchoice.dk
Teddy has many roles in the house, from wearing the boss hat to wielding the vacuum cleaner if needed. In addition to overall responsibility for our customers, Teddy has marketing…
and also manages HR and finances.  
He is passionate about all the possibilities that exist in digitization and always strives to meet everyone at eye level.
Teddy's best ideas come on his long bike rides in all kinds of weather at home and abroad, over bridges and through forests.
Teddy.schou@cleverchoice.dk

Tino works with implementation and support of our ITSM solutions. Although his diploma says Business, he has worked in IT for many years and has…
Among other things, extensive experience with portals and UX.
Tino lives in Spain and works remotely most of the time. When he is not at work, he spends his time kitesurfing, enjoying the sun and culture. 
Tino.semeria@cleverchoice.dk

DO YOU WANT TO WORK WITH US?
See our vacancies or send an unsolicited application